Blue Snakeskin Discus Fish 2-3 inch
---
by Tracie Rohrbacher
Date Added: Sunday 05 June, 2016
Awesome and beautiful discus. Not shy like most discus, will come up and eat out of my hand. I just love all 9 and plan to order a few more.
Rams are also doing great and thanks for the extra 1, ordered 5 received 6.
Very nice packing also. All arrived alive and healthy.
Would highly recommend you.
Rating:

[5 of 5 Stars!]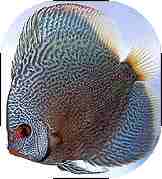 Click to enlarge