Super Yellow Marlboro - 2-3 inch
---
by Linda Sadlon
Date Added: Thursday 07 April, 2016
I usually hesitate to buy something online, especially if I can\'t talk to someone about the product. I do my research and then make my decision. Hesitantly, I made a purchase. I am SO GLAD that I made the decision to purchase some Discus from this company! My fish arrived last night - overnight delivery - they were all alive and all in good health. Each fish was in its own double bagged bag. The heat pack was still warm!
I LOVE my golden dragons!!! Oh my gosh!!! I didn\'t expect them to be so vibrant when I got them. They were so BEAUTIFUL - more beautiful than the pictures. I can\'t wait to see the Super Yellow Marlboro when it matures. The yellow should be very bright. I ordered 2 of the assorted discus - and I was totally blown away to get a white one. That was going to be on my next order!!
I will never hesitate to order from this company again, and I will NOT hesitate to recommend them to my friends. Actually, I\'ve already told some of my friends where I purchased \"my babies\" from. I believe we\'ve stumbled on the best kept secret in the Discus\' World. Thank you for being fair and honest.
Rating:

[5 of 5 Stars!]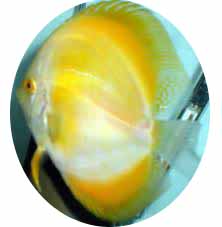 Click to enlarge